Abu Dhabi, the capital and the largest of all the Emirates, is nestled on a T- shaped island extending into the Persian Gulf from the central western coast. Abu Dhabi is the neighbouring emirate of Dubai. Needless to say, the capital has the best hospitality and houses numerous wonderful man-made establishments which keep its visitors spell-bound. Abu Dhabi is also highly rich in archaeological evidence. A visit to Abu Dhabi is no less than a visit to paradise, as you get to see exquisite Arabian culture combined with modern technology. You can also find many other places of interest which would keep you entertained.

How about treating your eyes with some greenery in the lands of sand? Well, you would actually love the feeling of being in a country side by visiting the famous city Al Ain of Abu Dhabi. Certainly, this place has lot to offer to make a trip complete. For instance, the famous Al Ain zoo, where you can find a good number of varied as well as some exotic animals. More interestingly, take pleasure in feeding the giraffes here. The city has also earned a name for its comparatively pleasant weather. To flow more with nature, climb atop the well-known Jebel Hafeet Mountain to view a heart-warming and lovely sunset. To put some extra bling to your trip enjoy a meal out in the Mercure hotel, which is also on top of Jebel Hafeet. If mountains don't take you by fancy then you can surely find a favourite in Al Ain's naturally spouted hot spring.

The admiration does not end here, there are many more reasons to have Abu Dhabi in your bucket list of holidays, as it is a land to most of the world recognized creations like the Ferrari world, the Sheikh Zayed mosque, Yas Island, Emirates Palace, Yas Island Marina Circuit, Yas Water World, Saadiyat Island, the Capital gate, Marina Mall of Abu Dhabi, Masdar city, skyscrapers like Sky Tower 1, Aldar Headquarters building, the Gate residential tower. Don't miss to stroll around the stunning corniche side. Relish the superb mouth-watering cuisines at miraculous locations. Experience the Arabian history at Zayed National Museum or even The Louvre Abu Dhabi Museum. Also, a must watch when in Abu Dhabi is the camel racing which has been taking place for ages.

Some Special Attractions:

Yas Island, Water World, Ferrari World

The Yas Island is referred as the Maldives of the UAE. The man-made Island is accessible via road, air and boats. Yas Island is where the far famed Yas Marina Circuit is. It is the circuit which hosts the annual F1 Etihad Airways Abu Dhabi Grand Prix. Visit or live at the renowned five star hotel, Yas Viceroy Abu Dhabi, which stands at the centre of the circuit. What's the catch? This hotel stands half over the waters and half on land.
So then make a splash at the Yas Water World. It has a whopping 43 slides, rides and attractions. What's more exciting? It has the world's largest and first ever hydro magnetic-powered, tornado waterslide which is 238 metre long. Try the 550 metre coaster with laser effects and on-board water, the Bandit Bomber.
Yas Island also has the world's first Ferrari theme park, Ferrari World Abu Dhabi. There are more than 20 mind-boggling and fun rides. Travelling to Abu Dhabi with family? If yes, then Ferrari World is a must-visit. Your kids will be happy and you can quench your thirst for adventure because this place has the fastest roller coaster ride, Formula Rossa. You can spend a leisurely day with your family here for sure.

Sheikh Zayed Grand Mosque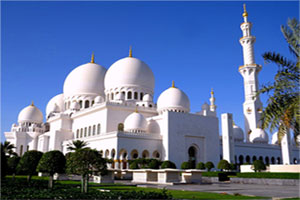 Adorned with crystal (Swarovski), gold and brass chandeliers, the Sheikh Zayed Grand Mosque is a must visit for a culturally fulfilling experience. The sprawling mosque magnificently stands second among the world's top 25 attractions for the '2014 'Travelers' Choice Awards'. It not only looks pleasant to your eyes but alot more to your heart.

Emirates Palace
The Emirates Palace has 394 rooms and suites. If you want to witness, feel and live the Arabian culture then this five star hotel craftily built in the form of a palace is where you should book your room or even suite.
Furnished with marble and gold, the Emirates Palace is a regal experience. It also has a Beach club with a lot of recreational sports facilities.

Saadiyat Island
Off the coast of Abu Dhabi island lies Saadiyat Island and can be reached from the Abu Dhabi International airport in just 20 minutes. Massive development projects are still on-going. But you can explore the rich culture of Abu Dhabionyour visit to two galleries at this island namely the Arts Abu Dhabi Gallery and the Saadiyat Story. You could also discover Hawksbill sea turtles that nest at the Saadiyat beach or you could merely enjoy the golfing at the Saadiyat Beach Golf Club which has region's first ocean golf course.

Marina Mall
It's a great place for holding meetings between locals or even expats. Shop till you drop here (around 400 stores) or try the nice cafes (48 restaurants) here or even go watch a movie. If a panoramic view is what you crave climb atop the tower behind the mall and watch the city and its hustle bustle.

Masdar City
With an endeavour to be a model sustainable city, Masdar city is known for its trackless magnetic cars. Of course there are several restaurants with exquisite cuisines that you could explore but also make sure you have a look at the Wind tower too. Take a trip into the green urban future.

All these places would make for a great visit to Abu Dhabi, really. If that weren't enough, during your visit you could also spot some film shoots if you're lucky. Abu Dhabi is the most preferred location for many film makers due to its world class infrastructure. A journey to Abu Dhabi would not just be fun but would create wonderful memories.